About Top Car Detailing
Covering Cheshire, Lancashire, Merseyside, Manchester and the Wirral
From day one, our vision for Top Car Detailing was that it would be exactly that. The best, the ultimate, the number one company for car detailing services, in the North West.
The Ultimate Vehicle Paint Finish
Whether your car needs detailing, paint correction or ceramic coating, you can rest assured that the team at Top Car Detailing, will ensure that your car leaves our workshop with the ultimate paint finish.
Skilled and Experienced Detailing
Business owner Barry Polding, is driven by his passion for producing head-turning examples of paintwork perfection.
Barry is a master craftsman who has honed his skills over many years. His quest to become the best, led him to travel 3500 miles to Columbus Ohio in the USA to work with world renowned detailer Todd Cooperider, owner of Esoteric Auto Detail. Whilst in Ohio, Barry worked with Mr Cooperider on numerous supercars, using new specialised products which have revolutionised the industry.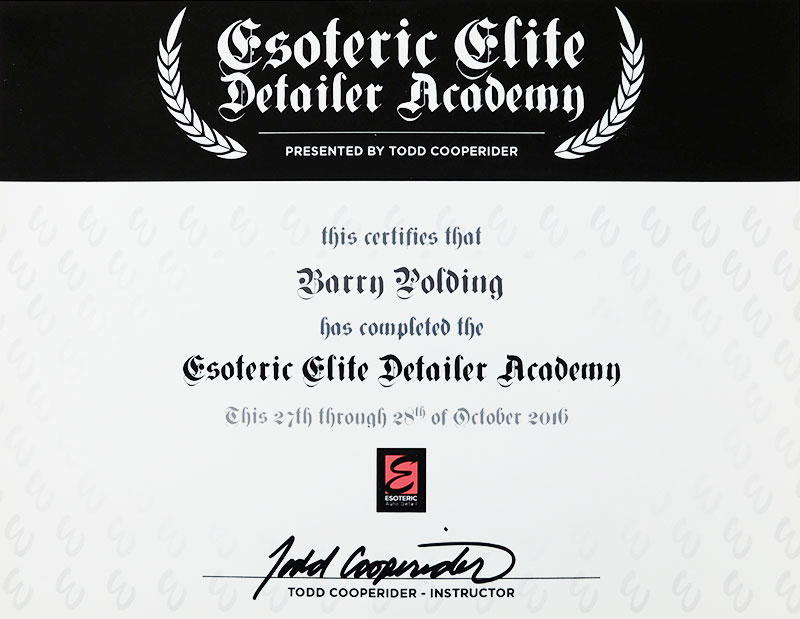 Esoteric Elite Detailer
Barry is currently the only UK Car Detailer to have completed the Esoteric Elite Detailer Academy
Car Detailing for Prestige Vehicles
There is no room for compromise at Top Car detailing. Your car will receive what is arguably the best treatment possible in the UK. We have a state of the art studio, equipped with the very latest equipment. We use only the highest quality products, all of which are rigorously tested by Barry. Want to see how we do it? Visit the Top Car Detailing YouTube Channel to see first-hand how Barry Polding works his magic on some of the most prestigious marques on the road. Marvel at the quality of the finish on the cars as they leave our workshop
Arrange Car Detailing for Your Car
Want to discuss the possibilities for your car? Contact us, speak with Barry. Our consultations are free, our expertise is second to none, and we are at your service.
Let Top Car Detailing give your car that head-turning, breath-taking, awe inspiring finish that you've always dreamed of.